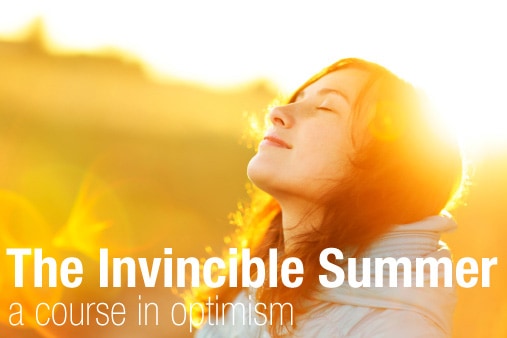 "In the depth of winter, I finally learned that within me there lay an invincible summer."
Albert Camus
One of the best things I have ever done for myself was to go from being a pessimist to becoming an optimist.
In my experience changing your attitude and mindset in this way is one of those things that will make a huge difference for you in any part of life.
As you make such an inner shift you can:
Find so much more freedom in life. This is absolutely wonderful. With optimism and positivity on your side the world opens up in ways you might not be able to see right now. Instead of feeling stuck in the same old rut or with obstacles always standing in the way of you living the life you deep down want to live you will find opportunities and possibilities and create ways to get what you want.
Keep your enthusiasm up and keep going despite stumbles, mistakes or failures. That is much better than taking the too-common path in life of letting one or two such negative situations push you into quitting and going back to your old ways.
Increase your happiness and self-confidence. As your optimism and the opportunities around you grow and you take persistent action – something I share how to do in the course – on your optimistic thoughts to move closer to your dreams your happiness in daily life will increase.
And as you are able to handle uncertainty better and able to keep moving through both good days and tough days step by step your confidence in yourself and in what you can achieve in any part of your life will grow a whole lot.
Become more socially attractive. Optimism will make your more socially attractive in any kind of relationship. No matter if it is in your career, at school or in your closest relationships. And the growth of your happiness and self-confidence as a result of the optimism will further boost that attraction effect.
Those are a few of the very best things I have gotten out improving my own mindset and becoming more and more of an optimist. And they are also a few of the most important reasons why I spent most of my summer and fall on creating my brand new course called The Invincible Summer – A Course in Optimism.
And I am feeling really enthusiastic about it right now.
Because I know how much the material in this course has helped me. Without the optimism you wouldn't for example be reading this blog right now. I would have given up on it a long time ago during one of the many times when things where tough or uncertain. Or I would even more likely not even have gotten started with it.
The course is also very important to me because I know that there are so many that are in a place similar to the one where I used to be where pessimism is a normal outlook on life. I see it in my inbox pretty much every day and in the newspapers every week.
The Invincible Summer will be an 8-week course where I share what has worked for me. Just the very best things I have found. And you get practical action-steps to follow each week.
The course will open up for registration in just 8 days, on Wednesday the 4:th of December at 1 pm EST (that's 18.00 GMT).
And the first 100 people to join it will get the membership at a 30% discount.
If you enjoyed this article, then get email updates (it's free)
Join over 59,426 awesome subscribers today and get practical advice in your inbox.